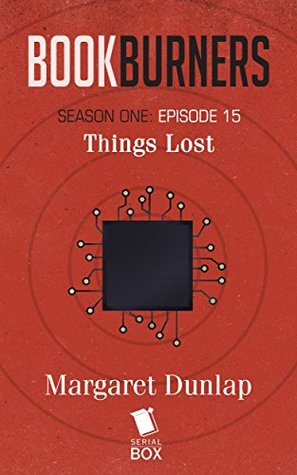 Things Lost by Margaret Dunlap
Published December 23rd 2015
Genre: Urban Fantasy
Pages: 41
Source: Netgalley – in exchange for an honest review
Nothing is what it seems in the shocking penultimate installment of Bookburners, the urban fantasy episodic series from Serial Box. With time running out, and the Hand growing stronger inside Sal, the only hope is to banish the demon back to his hellish domain. But to do that, Team Three needs The Book of the Hand, which is back in the Vatican. Now, thanks to a timely offer from Aaron, Sal and the rest of the team stake their freedom on a desperate throw of the dice by venturing into the lion's den . . .
In this episode, Team Three goes back into the Vatican to get The Book of the Hand.
The story line was good, it continued the previous episode directly. There was a lot going on, unexpected appearance and development of certain characters, it was overall an action-packed episode.
I can't wait to read the next episode, the finale of this first season. I'm excited to see how the authors will wrap everything up.
Rating: 4 stars