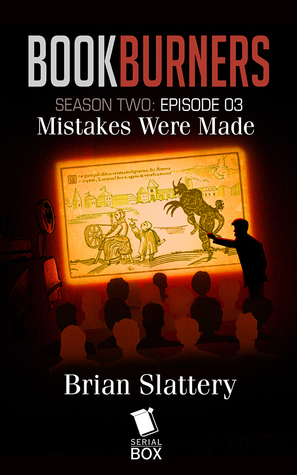 Mistakes Were Made by Brian Slattery
Published July 6th 2016
Genre: Urban Fantasy
Pages: 49
Source: Netgalley – in exchange for an honest review
Magic is real, and hungry—trapped in ancient texts and artifacts, only a few who discover it survive to fight back. Detective Sal Brooks is a survivor. Freshly awake to just what dangers are lurking, she joins a Vatican-backed black-ops anti-magic squad: Team Three of the Societas Librorum Occultorum. Together they stand between humanity and magical apocalypse. Some call them the Bookburners. They don't like the label.
In this episode, Liam, Asanti and Frances go to the Thaumatological Symposium, a magic conference held in Russia. It reminds me of the Market in episode 4 of the first season even though they are quite different.
We got to see more of Frances, Asanti's assistant. I wasn't expecting such a strong and rational character. I thought she would have panicked at the first sight of the terrifying magical creatures but she handled it perfectly, making it my favourite scene of the episode. I really want to see more of this character in the future because I feel like she has potencial to become on of my favourites.
Sal, Menchú and Grace appeared halfway through the episode but it was mainly focused on Frances and Asanti and their seemingly neverending quest to discover what happened to Team Four.
I'm curious to see what they'll discover and how Team Three will handle the situation.
Rating: 4,5 stars