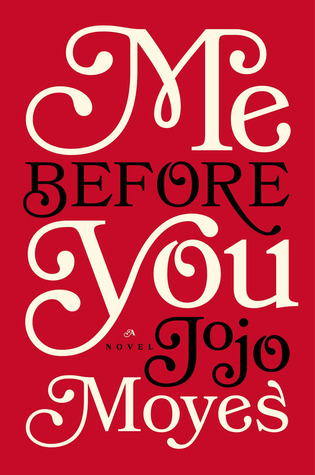 Me Before You by Jojo Moyes
Published December 31st 2012
Genre: Romance
Pages: 369
Source: Bought it
Louisa Clark is an ordinary girl living an exceedingly ordinary life—steady boyfriend, close family—who has never been farther afield than their tiny village. She takes a badly needed job working for ex-Master of the Universe Will Traynor, who is wheelchair-bound after an accident. Will has always lived a huge life—big deals, extreme sports, worldwide travel—and now he's pretty sure he cannot live the way he is.
Will is acerbic, moody, bossy—but Lou refuses to treat him with kid gloves, and soon his happiness means more to her than she expected. When she learns that Will has shocking plans of his own, she sets out to show him that life is still worth living.
A love story for this generation, Me Before You brings to life two people who couldn't have less in common—a heartbreakingly romantic novel that asks, What do you do when making the person you love happy also means breaking your own heart? 
This book is about Louisa, a 27 year-old woman that loses the job she loves. Then, she tries to find a new one and, after trying a lot, she finally finds something she can do. Being the carer of a quadriplegic man. It is not ideal and nowhere near what she was looking for but the payment is good.
I rarely read romance novels. Most of the time, they don't seem interesting so I never buy them. With this book it was different. I wasn't planning on reading it anytime soon, I would probably never buy it but my roommate saw the movie and absolutely loved it. Because she knows I prefer to read the books instead of watching the movie, she bought it for me and demanded that I read it. And I did.
Lou Clark was a rather interesting main character. She had crazy clothes and a crazy personality to match. I loved her.
Will was a very special character. There's a lot of character development throughout the book. He was amazing and, because of him, I'm going to remember this book for a long time.
Patrick, Lou's boyfriend, was easy to hate. He was selfish and, in the end, he really showed how horrible he was.
Now, the plot. The story was beautiful. I loved every single moment and I caught myself laughing half of the time. It was sweet and a really special love story that will stick to my memory. It makes the reader wonder about so many aspects of our lives. I'm glad my roommate picked this up for me, I can't thank her enough.
Even though I loved this book, I won't be reading the sequel. It was really special but, for me, the story ends here. There's no point in reading the sequel. I feel like there's no need for a second book and, for me, this story ended on the last page of this book.
Rating: 5 stars
Want a review from a different blogger? Click here