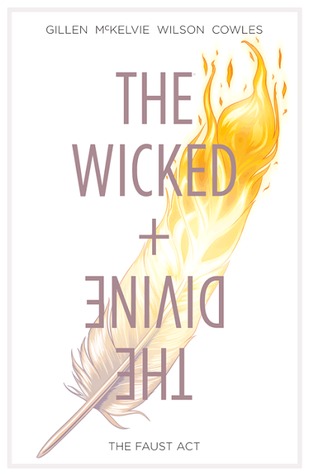 The Wicked + The Divine by Kieron Gillen, Jamie McKelvie and Matt Wilson
Published November 12th 2014
Genre: Fantasy Graphic Novel
Pages: 144
Source: Borrowed it
Every ninety years, twelve gods incarnate as humans. They are loved. They are hated. In two years, they are dead. The team behind critical tongue-attractors like Young Avengers and PHONOGRAM reunite to create a world where gods are the ultimate pop stars and pop stars are the ultimate gods. But remember: just because you're immortal, doesn't mean you're going to live forever.
This graphic novel is about gods that appear every 90 years and live 2 years each time before they die. They're also pop stars.
I didn't know anything about this graphic novel when I started it. I was expecting something different, it surprised me in a good way.
The main character is Laura, a college girl that goes to almost all the gods' shows. In my opinion, the personality trait that defines her is determination. Since the beginning, she's determined to do something and she doesn't give up. I think she's really strong and I love her.
All the gods were interesting but the one that stood out the most was Lucifer. I loved her so much. She made me laugh and that's probably why she'd my favorite character.
The plot was really good. It wasn't too complex nor too simple. I truly enjoyed it and the ending was mind blowing.
I can't wait to read the next volumes. I recommend this graphic novel.
Rating: 5 stars