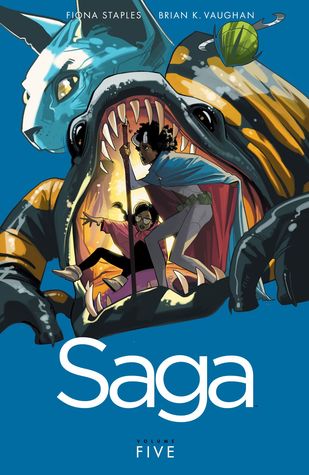 Saga Volume 5 by Brian K. Vaughan and Fiona Staples
Published: September 9th 2015
Genre: Fantasy Graphic Novel
Pages: 152
Source: Borrowed it
Multiple storylines collide in this cosmos-spanning new volume. While Gwendolyn and Lying Cat risk everything to find a cure for The Will, Marko makes an uneasy alliance with Prince Robot IV to find their missing children, who are trapped on a strange world with terrifying new enemies.
This volume was so much better than the previous one! There was a lot of action and the plot as gripping.
I started reading it and I couldn't stop.
I'm so glad this volume was better than volume 4, I was worried the rest of the series would be like that.
As I read more, I get even more connected with the characters and now. I can't wait to read volume 6.
There was a lot of character development, as I already expected from this series.
The plot keeps going and it is amazing to see this series growing.
Rating: 4,5 stars