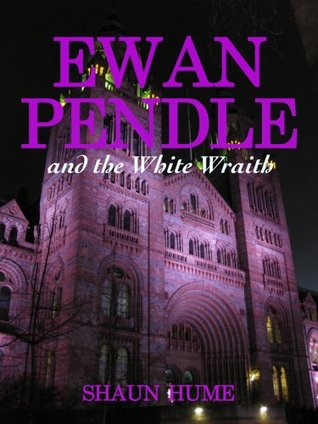 Ewan Pendle and the White Wraith by Shaun Hume
Published July 31th 2013
Genre: Fantasy
Pages: 499
Source: Sent from the author in exchange for an honest review
Ewan Pendle was weird. Really weird. At least, that's what everyone told him. Then again, being able to see monsters that no one else could wasn't exactly normal …
Thinking he has been moved off to live with his eleventh foster family, Ewan is instead told he is a Lenitnes, one of an ancient race of peoples who can alone see the real 'Creatures' which inhabit the earth. He is taken in by Enola, the mysterious sword carrying Grand Master of Firedrake Lyceum, a labyrinth of halls and rooms in the middle of London where other children, just like Ewan, go to learn the ways of the Creatures.
This book is about Ewan, an orphan boy who sees Creatures that others don't. After years of bad foster homes, he's finally taken to Firedrake Lyceum, a school for people like him.
The characters were interesting, every one of them had a different personality which added a lot to the book. Ewan is an awkward boy, very similar to Harry Potter. My favorite character was Mathilde, she was funny and I started loving her as soon as she appeared.
The writing style was very good but I feel the plot was dragged in some points.
The story was good, the author did a pretty good job on this first book of the series.
Still, I think I would have enjoyed it more if I read it a few years ago.
This book has a lot of similarities with the Harry Potter series so, if you like those books, I recommend Ewan Pendle and the White Wraith.
I already passed my Harry Potter phase and that's why I didn't enjoy the book as much as I think I would.
Nonetheless, I recommend this book to younger readers and Harry Potter fans, I think you'll enjoy.
Rating: 3,5 stars