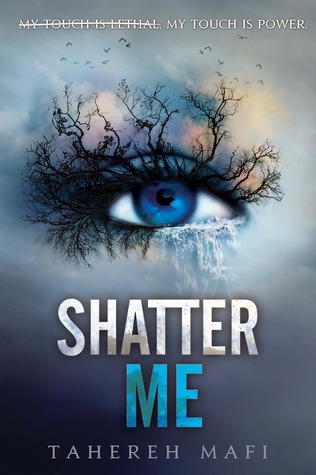 Shatter Me by Tahere Mafi
Published November 15th 2011
Genre: Dystopian
Pages: 338
Source: Borrowed it
Juliette hasn't touched anyone in exactly 264 days.
The last time she did, it was an accident, but The Reestablishment locked her up for murder. No one knows why Juliette's touch is fatal. As long as she doesn't hurt anyone else, no one really cares. The world is too busy crumbling to pieces to pay attention to a 17-year-old girl. Diseases are destroying the population, food is hard to find, birds don't fly anymore, and the clouds are the wrong color.
The Reestablishment said their way was the only way to fix things, so they threw Juliette in a cell. Now so many people are dead that the survivors are whispering war – and The Reestablishment has changed its mind. Maybe Juliette is more than a tortured soul stuffed into a poisonous body. Maybe she's exactly what they need right now.
Juliette has to make a choice: Be a weapon. Or be a warrior.
This book is about Julliette, a 17-year-old girl who has a lethal touch. Every living being that she touches, dies. When the book starts, she's been held captive for 264 days and a boy is thrown into her cell. His name is Adam and she remembers him from her distant childhood, even though he doesn't seem to do so.
The first thing that you'll notice in this book are the crossed phrases. They usually contain Julliette's honest thoughts. It was weird in the beginning but as I kept reading the book, I got used to it. It was a different way of showing her true emotions and thoughts but it worked.
Julliette's power was unusual, which is refreshing in a book like this. Julliette, though, wasn't as interesting. Even with her lack of personality and with the fact that she half-starved when she was captive, every guy in her life wanted to date her (even her psychologist, Winston, a professional, thought she was attractive and couldn't look at her when she dressed a latex suit).
Adam was the soldier that was thrown into her cell and, after she finally left it, he was responsible for her. His only characteristic was that he was completely devoted to Julliette and threatened everyone that wanted to harm her or that found her attractive.
Even with mediocre characters, the story kept me reading. It wasn't that mind-blowing but it kept me going and it intrigued me enough to finish the book. The writing was odd and off-putting sometimes but I got used to it and, by the end, it didn't bother me anymore.
So, if you're into Young Adult dystopian book and, for some reason, haven't picked up Shatter Me, maybe you should check it out. It wasn't the best book in the world but it was still enjoyable.
Rating: 3 stars